Patients
---
About Generic Drugs
According to the FDA, 8 out of 10 prescriptions in the United States are filled with generic drugs. With many popular drugs having come off patent, use of generics is expected to grow over the coming years. In addition, generic drug options allow greater access to quality healthcare for all Americans.
A generic drug is a medication created to be the same as an existing approved brand-name drug in dosage form, safety, strength, route of administration, quality and performance characteristics. The FDA Generic Drugs Program conducts a rigorous review to make sure generic medicines use the same active ingredients as brand-name medicines and work the same way and provide the same clinical benefit as their brand-name versions. During the application process, each generic drug must, among other things, meet the same FDA quality and effectiveness standards as the brand-name drug by demonstrating that:
The active ingredient is the same as that of the brand-name drug/innovator drug
The generic medicine is the same strength
The medicine is the same type of product (such as a tablet or an injectable)
The medicine has the same route of administration (such as oral or topical)
It has the same use indications
The inactive ingredients of the medicine are acceptable
It lasts for at least the same amount of time
It is manufactured under the same strict standards as the brand-name medicine
The container in which the medicine will be shipped and sold is appropriate
The label is the same as the brand-name medicine's label
Relevant patents or exclusivities are addressed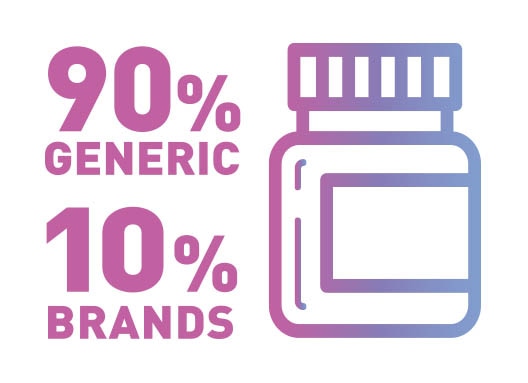 Prescription Assistance
Glenmark does not have a prescription assistance program in place at this time. However, you may be eligible for patient assistance programs through the Partnership for Prescription Assistance®.
Please see www.pparx.org or call 1-888-477-2669 for more information.
Report Adverse Events
Glenmark Pharmaceuticals is committed to patient safety. Our Global Drug Safety Risk Management function monitors, assesses and reports on the safety of our medicines throughout the products' lifecycles, from discovery and research to post-approval, when it becomes available to patients.
Glenmark Pharmaceuticals has established a systematic process for collecting, analyzing and reporting safety information in order to optimize patient safety in compliance with local and global guidance regulations.
To report adverse events or quality complaints or to ask any questions about Glenmark products in the United States, please contact the Glenmark customer service center:
Phone: 1-888-721-7115
Hours: 9:00 a.m. – 6:00 p.m., EST
Email: GlobalCustomerService@glenmarkpharma.com
To report adverse events or quality complaints or to ask any questions about Glenmark products in Canada, please contact Innomar-Strategies:
Phone: 1-844-801-7468
Hours: 9:00 a.m. – 5:00 p.m., EST
Email: Glenmarkcanada.pv@Innomar-strategies.com
Additional information on how to report problems with medication, including a convenient, downloadable consumer guide, is available on the FDA website by clicking here.